Scientific show of Michael Londesborough will also take place in Žilina!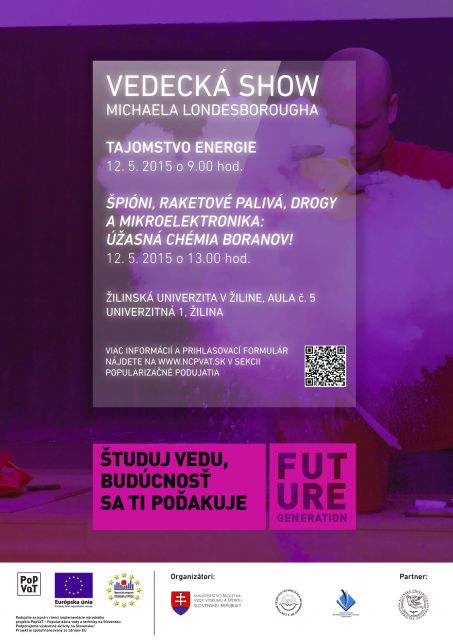 The Scientific show of Michael Londesborough will take place on 12nd May 2015 at 09.00 AM. and at 01:00 PM. in the premises of the University of Žilina. In the show "The Secret of Energy", which is intended mainly for secondary school students, Michael Londesborough will explain what energy actually is, what its origin is, how to relax and how we can tame it for our own needs. He will also answer the question, whether the production of energy must harm the environment.
The second show called Spies, rocket fuels, drugs and microelectronics: the amazing chemistry of boranes! is mainly organized for university students and specialized public. Michael Londesborough will explain why the boranes – a group of inorganic compounds consisting boron and hydrogen – an amazing chemicals. He will accompany his guests throughout the first century of their research which is full of espionage, mysterious rocket fuels, semiconductors, microelectronics and even throughout the hope for suffering from HIV/ AIDS.
For more information about the event and registration, please visit www.ncpvat.sk – section Promotion events.
Dr. Michael G. S. Londesborough B.Sc Hons Ph. D. is a British scientist. He works at the Institute of Inorganic Chemistry, Czech Academy of Sciences in Prague. He was born 27.1.1978 in London England. He graduated with a first-class degree in chemistry at the University of Leeds, England in 1999 and he became a degree Ph.D. Since 2002, he has been working on a research in Prague, where he also lives. In 2014, he has reached a great success in his research; he managed to discover in collaboration with Spanish scientists a unique laser based on boranes.
He is a three times winner of the Czech/Slovak young inorganic chemist award, he is also involved in various projects in collaboration with the British Council in Prague, in popularization projects of The Czech Academy of Sciences, the Czech Television and the National Technical Museum. He is interested in the promotion of science for public, the teaching of young people and the networking of young scientists from the UK and the Czech Republic. In 2009, he has been awarded with the Vojtěch Náprstek Medal given by The Czech Academy of Sciences for results in science popularization. Between 2011 and 2014 he was also awarded for results in science popularization by The Czech Academy of Sciences.
Basic data
NAME:
PopVaT – Promotion of science and technology in Slovakia
EXECUTING BODY:
Slovak Centre for Scientific and Technical Information in Bratislava
Lamačská cesta 8/A
811 04 Bratislava
OPERATIONAL PROGRAMME:
Research and Development
PROJECT CO-FINANCED BY:
European Regional Development Fund
NON- REFUNDABLE AID:
14 949 307,96 EUR
IMPLEMENTATION:
April 2013 – October 2015
ITMS Codes:
26240220085
26220220181