Panel exhibition of Jozef Murgaš - Wireless World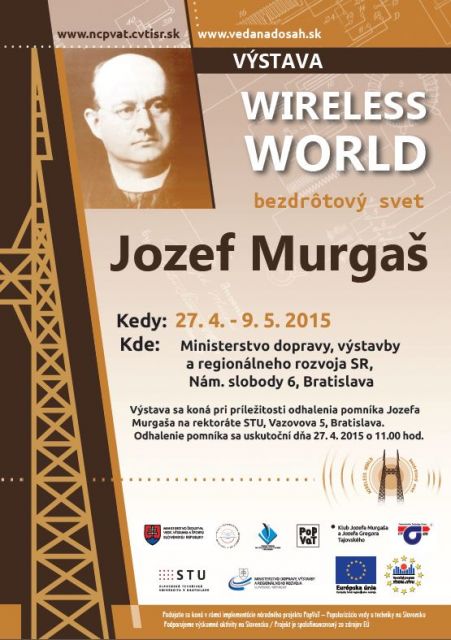 Panel exhibition presents the research and discoveries of Joseph Murgaša within a wireless telegraphy. The exhibition is held on the occasion of unveiling Joseph Murgaša the rector of STU in Bratislava, Vazovova 5. The unveiling will take place on 27. 4. 2015 at 11.00.

When: 27. 4. 2015 - 9. 5. 2015

Where: Ministry of Transport, Construction and Regional Development, Freedom Square 6, Bratislava

poster

To learn more, please click here.
Basic data
NAME:
PopVaT – Promotion of science and technology in Slovakia
EXECUTING BODY:
Slovak Centre for Scientific and Technical Information in Bratislava
Lamačská cesta 8/A
811 04 Bratislava
OPERATIONAL PROGRAMME:
Research and Development
PROJECT CO-FINANCED BY:
European Regional Development Fund
NON- REFUNDABLE AID:
14 949 307,96 EUR
IMPLEMENTATION:
April 2013 – October 2015
ITMS Codes:
26240220085
26220220181